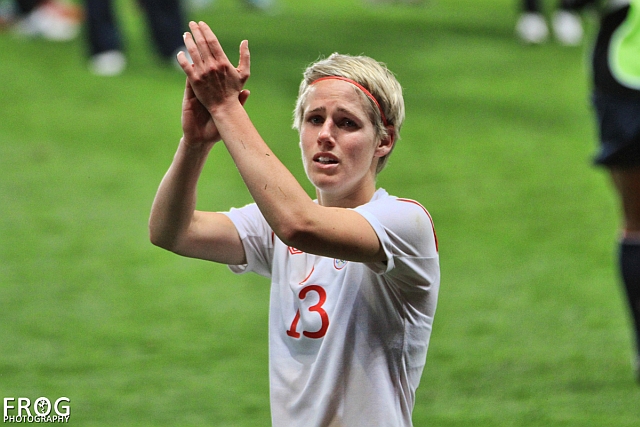 This hurts. It's a special kind of sporting hurt.
It calls up all the old scars. Watching the 6-1 Montreal loss that put the Whitecaps out of the 2009 Voyageurs Cup. Realizing that Spurs had been pipped out of the Champion's League in 2005, and again in 2012. Worse than the overtime goal that sank the Canucks in the 2004 playoffs, and the 90th-minute goal that ended UBC's bid to return to the CIS national soccer tournament, and the dumb horror of watching Calgary pound the Thunderbirds to pulp in the football playoffs.
And the late disallowed goal that gave the United States a win over Canada in the 2007 Gold Cup.
Canadians (and Americans) got invested in the Olympic semifinal against the US. Not just the people who always care about soccer, but everyone! Everyone felt like they were tuned in. And afterwards, especially on the internet, we have been bitter and sore. (We were so mad about it that we stressed out Samuel L. Jackson at the Olympics, which as petulant on our parts as keying Santa Claus' sled.)
Most American fans have been really gracious, although every story on this topic has at least one comment telling people to stop whining. There are also corners of the internet that consider it disgraceful that Canadian players are talking publicly about being robbed due to how often physical Canadian play in the box wasn't called, and gifs have already been made of an incident I missed where Melissa Tancredi was treading on a player's head.
I already wrote a match recap, but I'm still sitting here feeling empty hours after, so I feel like I'm just going to explain what's so awful about it.
Moments like today's game are the pinnacle of a Canadian soccer fan. Canada forever seems on the other side of an invisible barrier–for the men, it is qualifying for a major tournament, and for both sides it is defeating elite teams–that leads to constant disappointment, year after year. It leads to isolation, where the population who doesn't know soccer knows only that Canadians aren't as good at it, and half of the population that does has decided Canada aren't worthy of support and pine after a European team instead. Almost every time, all we have is hope, and we lose anyways, and then we get ready to hope for the next one.
And then there are a few occasions where it looks like this is the one. This is the time we make the final. This is the time we beat the States. Atiba Hutchinson is one-on-one with the keeper. Christine Sinclair has scored in the 73rd minute, and I think it's going to fucking happen.
And then a goal kick turns into a free kick inside the box. Why do we focus on this call? Americans tend to speak in muted conciliatory tones about these sorts of things, acknowledging we feel wronged but not really convinced that they should feel bad about it. In a poorly reffed game where both sides were vicious to each other and didn't get called, in a game where the real heartbreak was the last minute header, why do Canadians speak in only barely-joking tones about the game being rigged because of that call? Why do the players mention the referee before they mention the other team, and why did Christine Sinclair say she felt like she let the country down after putting in one of the finest performances anyone's made in the uniform?
Because we thought we had it. Because the header was clean, we will not have the chance of penalties, because the US will go on to the final and win (or not), because it will keep me awake nights wondering what it would have been like–for Canada, for the players, for the game, for my joy as a sports fan–if we could have done it just this once, if only that weird awful call hadn't have happened. Because we don't know what more Canada can do than it did this time, and it feels like it will never get better.
It will, of course, get better with time, like any sporting hurt. They did really well, and I'm really proud of every one of them. On Thursday, I will wake up at 5 AM, and hopefully Canada wins a medal, and if they do people will wake up hours later and think "Hey, that was neat," and put it in the same mental drawer as the synchronized diving and the weightlifting.
But this time, they were watching. Everyone was watching. And we almost pulled it off.