The push for transparency and accountability shows up in the most unlikely places sometimes. Occasionally when MLS people talk about it, they speak of fans like annoying children, as if to say, "I can't believe they care about this stuff."
Criticism has a unique role in sports and soccer. It's an entertainment, but teams are selling hope for future success, which brings joy enough to deal with the sorrow of any present-day losses. So GMs, coaches and players are held accountable to whether or not they are good enough to deliver the success that fans desire. When a manager like Carl Robinson or a player like Russell Teibert tries to stay positive in the face of a bad result, that frustrates some, as though fans want to see their sorrow reflected in their heroes' faces to justify it.
If a coach doesn't win enough, fans wonder if they will be sacked; if a designated-player striker like Octavio Rivero can't score the goals that ostensibly justify his salary, they will be shown the door, and if a promising young prospect like Darren Mattocks squanders opportunities to score, some will question whether they are worthy of those opportunities. The promise of youth implies delivery, and sometimes people feel cheated when it does not arrive.
This brings us to Alphonso Davies. The 16-year-old is a true prodigy, in that it's incredible to consider that he has this much skill at this level. He accomplished many key milestones last year, including first MLS start and first Whitecaps goal, in the CCL, both of which he's repeated this year in just three games. It was on display in the Whitecaps' 0-0 draw against the Philadelphia Union last Sunday, which was void of much interesting except for Davies' eye-popping runs. When he's on the ball, people seem to take a half a second to stop and watch. Look at his movement before this Techera chance, and his quick ball at the end of it: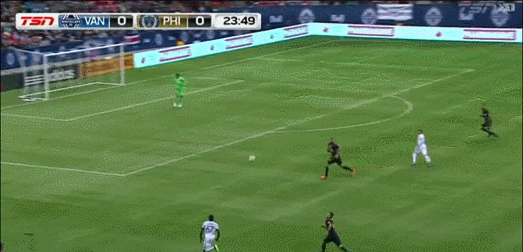 It's a joy, and part of it is that it's so audacious; so carefree, unlike the fundamental, mechanical slog that can characterize regular-season soccer. Carefree is the key word here, though. The Whitecaps have done a good job protecting him; holding him away from media, preventing him from getting an ego, trying, in a sense, to raise him. Giles Barnes, who just got traded, drove and cooked for "his son", according to ESPN's Julie Stewart-Binks. Robinson wouldn't let him speak to media much, if at all, last year. But he can't be hidden for ever. The league is starting to notice Davies, now. There are stories about him attracting interest from Chelsea, Manchester United and Liverpool. The AFTN Soccer Show noted that there's chatter about whether he should join the senior Canadian national team, and he doesn't even have his passport yet.
It seems scarcely fair to put him on the field with men old enough to be his father, but he's clearly good enough for it. His composure and ability to score goals are clear. The question becomes, how should his successes and failures be judged? Kekuta Manneh is 22 and, debatably, has matured and become a reliable person to start any game. Davies could be four-to-six years away from it being fair to even hold him to that standard. That's an eternity.
Davies appears to benefit from free run, and any young player starts to get shackled sometime. Maybe they don't track back enough (though Davies does) or don't score enough (though he's doing that). What happens when he misses a sitter at a key moment? What will people say about the teenager on Twitter then? Can he stay protected for four, six years?
Davies presents an interesting challenge for the MLS world: a player free from accountability. This will be interesting because though I will always argue for the necessary role of criticism, soccer fans can be pretty negative sometimes, and this is a player for whom negativity is unwarranted. It's just not important right now. He doesn't have to answer to you. He should not be punished. He should learn. Expectations to deliver on promise can be a weight on a young player. If we can keep ourselves in check, he may be able to fly.