A few weeks ago, I took part in FC Edmonton media training — not training players to speak to the media but training members of the media to play soccer. Mainly, it was a part of their push to promote two regular season games to be played in Fort McMurray this year, but it had a theoretical purpose as well.
Head coach Colin Miller told the four of us at the start that he wanted to give the media an impression of what it's like to play against players of their calibre; Mallan Roberts, Darryl Fordyce, Albert Watson and Austin Couture joined the media types. I moonlight as a soccer blogger, and although I reject the basic premise that you can't have an opinion about something like a sport unless you've played it, a little understanding can't hurt. So, media stunt aside, there was a point here, an opportunity to learn something. So, what did I learn?
I think what I took the most notice of is how fatigue limits your awareness on the pitch. Sure, I was a bit out of shape and had the first touch of a brick, but the huffing and puffing isn't the important part. I've been tired when playing soccer before, but the session, which Miller called a fun drill they do with their younger age groups, was structured in a way to start you out tired.
It started out with just controlling the ball, remembering to use the side of your foot and then a short stint of doing that with your weak-side leg. Miller called out to remind the four of us to control with the side of our feet, and not to spend so much time looking down. I felt breezy at that point, as we dribbled around each other. Then the drill increased in intensity as Miller added more elements: on his mark, touch the ball five times with alternating feet. Then four times with the feet and one with each knee. Then all that, and squat onto the ball, touching it with your butt. Then, all of that with a push-up, touching the ball with your chest. Then all of that with a second push-up, this time with a forehead touch.
"When we have kids that are a little unruly, this exercise gets them quiet really quick," he said.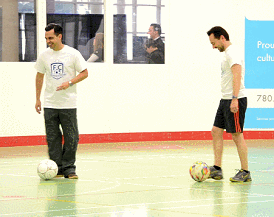 As I got more tired, those push-ups got a little less crisp, to say the least. What I noticed is that as I juggled tasks and did more drills, my reaction time dropped; the hardest part was actually stopping the ball so I could do touches. (Not the least because I was wearing Converse and not pointed-toe runners, but that was on me.) My fluidity while running with the ball went away as I slowed, as I spent more time focusing on whether or not the "touch" call was coming. "It's like you're dancing on a bed of swords, Andrew!" Miller called out.
A short break after, we started a four-a-side game with Couture, an academy player for the club from Fort McMurray, joining the offense team. This is where I started to get the picture about fatigue. Specifically, when people talk about extra time affecting players' ability, or diagnosed a team as being tired at the end of a road game, I don't think I was able to actually understand why before.
Basically, it felt like my level of awareness narrowed the more tired I got, and the drills basically guaranteed that I'd start blown up. It helped between plays when Miller shouted out to remember to stay organized, and keep someone back for defense. But still, skills I had when I was more fresh didn't come as naturally, and it was hard to transition from one situation to another.
All in all, I think I'll understand those 90th minute blunders a little more. When I see the pained look in a player's eye, I'll recognize it. The coaches did. The goalkeeper coach, Darren Woloshen, came up to me after and told me he was impressed, given that I hadn't played the sport at a high level. I laughed, at myself, mainly, still feeling tired and heavy-limbed. "I mean it," he said. "You were good out there."
I think I was; if I didn't score any goals, at least I got the point.