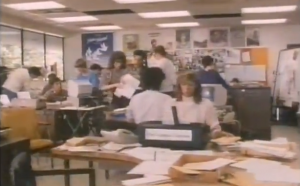 Here's a fun anecdote I stumbled upon doing some web searches. In the middle of a relationship advice column in the Regina Leader-Post about a UBC study that asserts that women are attracted to scowly men and men to smiling women, the late Ron Petrie, columnist and Sheaf alumnus, drops an anecdote about what he learned at a CUP regional conference in the 80s:
The study supports similar findings at UBC thirty years ago. Back when I was editor of the University of Saskatchewan Sheaf, colleagues from student newspapers across western Canada gathered in Vancouver.

Understand this was an era when campus newspapers weren't concerned so much with "campus news," per se, as with social justice in the news media.

We young, humourless journalists saw ourselves as the vanguard of a new society, where males and females were treated equally and where, perhaps, some day, 50-year-old guys wouldn't go around using expressions like "luuuv," "chicks," "gettin' smitten."

Anyway, true story: Our conference agenda called for us to break off into groups for earnest, gender-specific deliberations, a male caucus and a female caucus. (How enlightened were we male students back then? Not one of us even snickered at the word "caucus.") It was agreed the men would gather in the newsroom of the UBC Ubyssey, the woman at another room in the student union building. We split off.

To this day, I don't recall how it all started. Perhaps a paper jet launched by Alberta's editor glanced off the forehead of Brandon's. Regina might have then lobbed a scrunched ball of paper at Capilano, prompting Victoria to declare the largest desk as its fort, and good thing, too, given that Lethbridge had discovered the awesome aerodynamics of the cardboard mailing tube as a projectile. By the time Simon Fraser dropped, rolled, stood up again and raced through the neutral zone, firing staples, manila folders flew, typewriter tables zoomed back and forth, Calgary answered Winnipeg's volley of flung pencils with a barrage of trash can waste, and it was the only most fun EVER, and then, and then .

The women walked in.

Freeze frame. The respective facial expressions of the female student editors and the male editors, at that exact instant, are best described through Hollywood illustration.

FEMALES: Clint Eastwood, as the stranger in A Fistful of Dollars.

MALES: The dwarf Dopey, as himself.

Just the recent UBC findings have confirmed, there was definitely no post-conference necking that weekend. And we were college students. On a road trip.
Note: Just after publishing this, I noticed that Petrie passed away in February at the age of 52. I hadn't read anything of his before, but he seemed pretty awesome. Rest in peace.