It's Christmas Eve! I'm kind of posting from Christmas, because I spent so much time on this: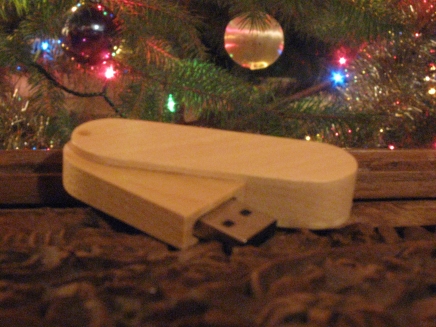 It's a flash drive! And a mix tape. I wanted to give out Christmas presents this year, but I was broke. I still have a load of old promotional flash drives I got at the Olympics, so I figured it'd be a good time to put them to use: by putting music on them.
I customized some playlists out of my music, keyed to what I thought people might enjoy that I could introduce them to. I also included some extra stuff–relatives interested in my work got clippings, others got photography, my grandparents, wondering what shows to go to at a venue where they got cover coupons, got a sampler of all the musicians playing there until March.
I also did this video to put on all of them. Ignore the Diana Krall–that was a mistake, but it had to be done in one take. I credit my mom for the camerawork–shot on my Canon point-and-shoot–and her boyfriend Bruce for the lighting. I take all the credit for the bad joke in the intro.
Merry Christmas, everyone. Tune in tomorrow, if you're reading this late on Christmas Eve/early on Christmas Morning, for my inevitable contribution to the Heartwarming Story Brigade. And forgive my retroactive scheduling–it still counts as daily if I posted before I went to sleep.
…wait, did I give something away?