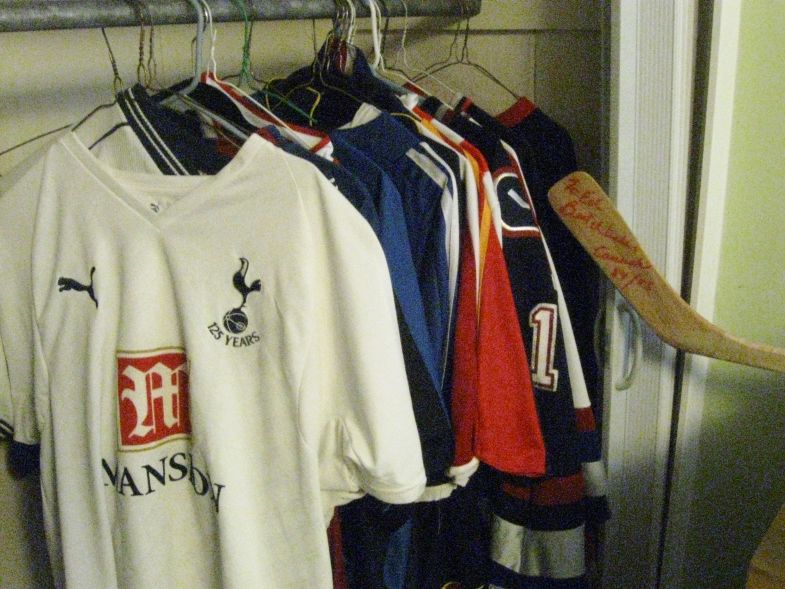 I started following soccer in 2005, when Martin Jol's Blue and White Army were pushing Arsenal for the elusive Champions' League spot. My foundational experience as a football fan was the agonizing experience of failing at the last moment when a food-poisoned Tottenham side wilted at the last moment, losing fourth place. I should feel elation, then, at the result today, but I can't help feeling guilty.
Until today, I haven't watched a single full-length English football match since August. I haven't watched a hockey game all the way through this year until the third game of the playoffs. I'm back, but I feel guilty.
It's not like I'm a fairweather fan. I've called distant relatives to catch rides to a bar at 5:30 AM in order to watch cup finals. I have rejiggered my entire travel schedule to make it to the ground to catch a football match. My entire mood for a week has hinged on a scoreline. I have enough jerseys (hockey and soccer) to wear a different shirt or sweater for 21 consecutive days without running out.
I have my memories of sporting glory, but they are underpinned by the hardships that dog them wherever they go. Losing to the Calgary Flames in the 2004 NHL playoffs. Consecutive Spurs seasons that always start with a threat of relegation. Inability to overcome Arsenal when it matters. Inability to overcome the Impact when it matters. Swearing alone in despair as Canada lost to the USA in the 2007 Gold Cup, as Spurs lost to Man U last year in the Carling Cup final, as Canada lost to Honduras, as Toronto FC pumped six past Djekanovic in the Canadian Championship, as the Whitecaps lost in what could be the last USL-1 final.
This season, Tottenham Hotspur finally lived up to potential and proved it can finish in the top four of the Premiership. We beat Arsenal in the league. We're going to compete for the European Cup. But I feel guilty about joining in in the celebration, because I wasn't really watching it. I couldn't tell you much about our year–I dropped into a liveblog at my old blogging grounds to comment, to find I didn't really have much to say.
I've had good reasons not to watch. Journalism made me so busy this year that I didn't have enough time for classes, let alone football. And there's ample opportunity to come back to sports–the NHL playoffs make it easy for someone who skipped the regular season, the Whitecaps have just started back up, and the World Cup is just around the corner.
But the truth is, I missed it. I missed the tugging at heartstrings a match can produce. That's why I feel the most guilt; because I know what victory feels like, and it wasn't this. I remember leaping around a bar full of Blues when we won the Carling Cup, when Canada won gold. I remember the rush of glee when we beat Toronto in the Voyageurs Cup. But I don't remember this year's biggest victories, because I didn't pay into them. For that, I'll always feel like I missed out.
photo by me